5 Comedians at Oddball Comedy Festival You've Never Heard of, But Should
Wantagh, New York -- Oddball Comedy & Curiosity Festival came to Jones Beach Theater in Wantagh, Long Island on August 22 and it was a full evening of quality comedy. Put on by Funny or Die, the touring comedy festival was headlined by Hannibal Buress, Jeff Ross, Sarah Silverman, Dave Attell, Bill Burr, Louis CK, and more. The headliners killed it, particularly Sarah Silverman sitting on the lap of a bald audience member and Hannibal Buress doing his classic gibberish rap, but the openers at the Second Stage deserve a mention too.

Keep reading to find out which up-and-comers you should keep your eye on, whether you're making one of the festival's upcoming stops or just wishing you were.
5. Brody Stevens
Brody Stevens via Comedy Central

The second stage was hosted Brody Stevens, a comedian from LA who cultivated his cult following from starring in TV show Brody and Teina and frequently appeared on Chelsea Lately. He mainly introduced the other performers and had audience members bring him food from the concession stand.
4. Grant Cotter
Grant Cotter is member of the cast of MTV's Jerks with Cameras and had a part in the movie Spare Change. His style of comedy is all about sassy observations and calling out audience members. You can catch him at The Improv or The Laugh Factory doing a spot-on impression of drunk girls taking a selfie and pinpointing exactly which audience member is stoned.
3. Kevin Iso
Kevin Iso via bestcomedytickets.com
Kevin Iso was a game-changer in this mix of comedians. He told self-deprecating jokes and stories about his life while trying not to laugh. He made fun of his teeth: "Jesse from Breaking Bad have better teeth than me and he's been smoking for five seasons," and decided rap music is the best background music for violence: "I haven't killed anybody yet, but when I do, I'm gonna have Tupac's 'Hail Mary' playing, because nobody wants to get killed to Taylor Swift's '22'."
2. Drew Michael
Drew Michael via the comedian
Drew Michaels killed it with his set about love, ex-girlfriends, and social change.
He started his set with, "Yeah, I'm single! Because....well you'll see," and it only got funnier. He continued to talk about stalking his ex girlfriend (not on her Facebook wall, leaning up against her actual wall) and how love is the only drug that can convince you that going apple picking is a good idea. In addition to standup, he does a
weekly podcast
.
1. Jon Rineman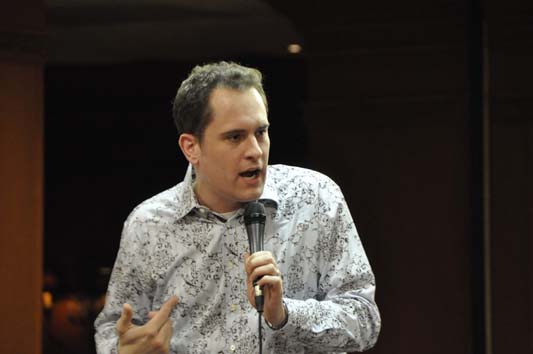 Jon Rineman via ralphspic.com

Jon Rineman is the head monologue writer at
Late Night with Jimmy Fallon
, buts he's got an impressive standup set of his own. Despite being heckled, he continued on with his set about funny observations from his personal life and witty one liners. Check out is
twitter
for a first hand experience with his jokes.
The
next stop
on the Oddball Comedy Festival is in Clarkston, Michigan, on August 29. Tickets are
available
for all upcoming tour stops.
See Also: