Highlights from Splendour in the Grass 2014
Splendour in the Grass 2014 via the festival
Byron Bay, Australia --
Splendour in the Grass
' 2014 installment has come and gone with major successes and minor controversy. Overall, festival organizers and artists delivered a solid event this year, so scroll down to see the highlights of Splendour in the Grass 2014 - from pranks gone wrong to unbelievable musical performances and more.
Lily Allen's Fake Arrest Photo Sparks Investigation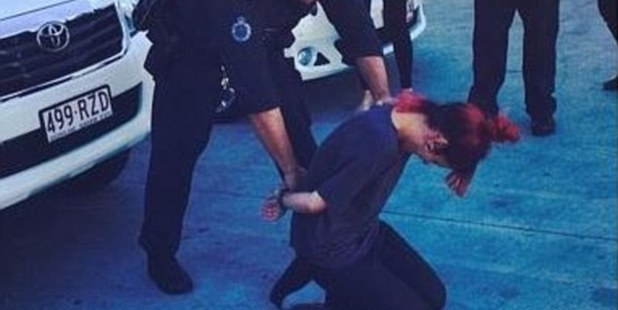 Via The New Zealand Herald
Lily Allen made headlines this weekend when she posted a photo to her Instagram (which has since been removed) of the British pop singer being detained by Australian police simply with the caption "#uhoh." Apparently, she requested to be put in handcuffs as a joke, and the officers abided breaking strict police protocol. Authorities questioned Allen at Splendour in the Grass as part of an internal investigation.
Lineup Changes Gallore
Foals via Music Feeds
The two weeks prior to Splendour in the Grass brought with them some serious last-minute
lineup changes
. Both
Two Door Cinema Club
and
London Grammar
dropped out due to health issues, with
Foals
and
The Presets
replacing each, respectively. This also led to Dallas Green's
City and Colour
scoring Saturday's headlining spot, delivering a slow-building set defying most festival headliner conventions. Foals alleviated pre-festival concerns by putting on an energy-fueled show with lots of crowdsurfing.
Bender Crowned Triple J's Mayor of Splendour
via Triple J
The Australian radio station
Triple J
brought to the 2014 festival its "Mayor of Splendour:" Bender from
Futurama
. Watch him above dancing onstage with
Ball Park Music
or below crowdsurfing. He donned a regal cape and crown with his signature catchphrase "Kiss My Shiny Metal Ass" written on his chest. Speaking of backsides...
Splendour in the Grass Sign Is the Butt of a Joke
via Pedestrian.tv
Some vandals who seemingly hadn't developed their senses of humor past middle school stole a few choice letters from the festival's main sign so it read, "PLENDOUR IN THE ASS." Apparently, the Scots in
CHVRCHES
got a
huge kick out of it
.
Up-and-Coming Indie Acts Reign Supreme
Future Islands via Music Feeds
Two of the most talked-about sets coming out of Splendour in the Grass belonged to Sky Ferreira and Future Islands. The former blasted through the frustrated electropop of her first LP Night Time, My Time, while reviewers lauded Future Islands' frontman Samuel T. Herring for his playful, upbeat stage presence.
Childish Gambino Takes Charge of the Mix Up Stage
via Triple J
Although a
widespread rumor
of
Chance The Rapper
appearing at
Childish Gambino
's set turned out to be nothing more than gossip, Mr. Glover still delivered the goods with a full live band and his usual stage-dominating swagger. Above, you'll find a rousing performance of his
Because The Internet
track "3005."
Andre 3000 Went Surfing
Before their headlining Friday night slot, the boys in
Outkast
decided to live it up on Australia's Gold Coast. As you can see above, 3-Stacks stuck to the surfboard while Big Boi
hopped on a jet-ski
.
See Also: