Most-Anticipated Album Releases Still to Come in 2014
With only a few months left in 2014, we still have loads of new music yet to be released through autumn and the start of winter. It's an important time for the music festival fans out there, because the names on this list will most likely hit the festival circuit hard in 2015 in support of their new(ish) albums.
We're aware our last list included upcoming September releases, but a few things happened since then we couldn't forsee (like Aphex Twin announcing his new album via blimp), so we're featuring them in this list.
September - October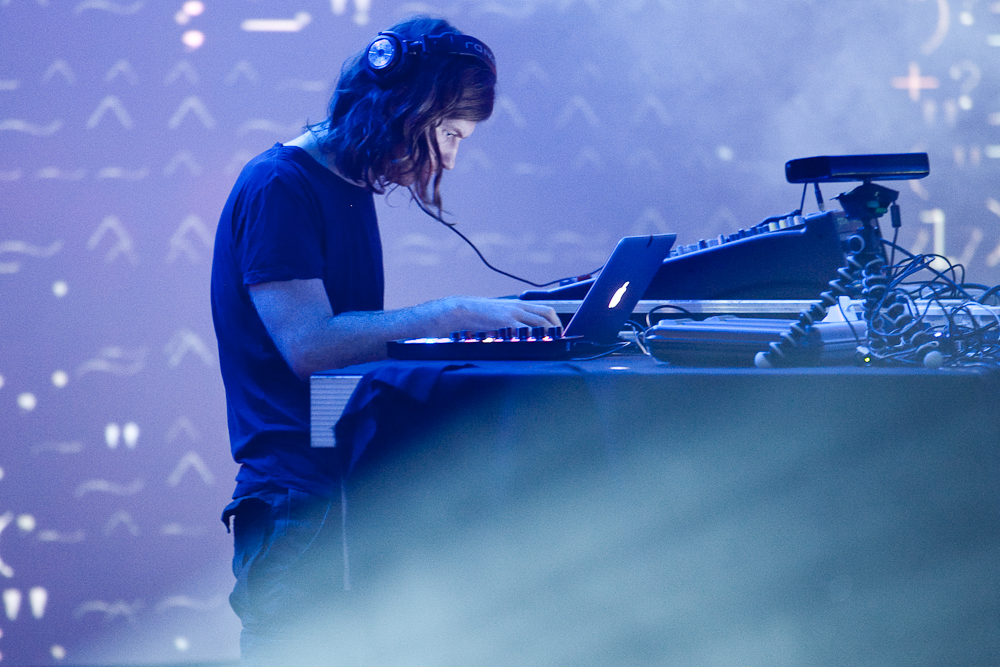 Aphex Twin by Charlotte Zoller via Pitchfork
As we mentioned before, Aphex Twin, the pseudonym of UK-based electronic producer Richard D. James, is putting out his first new album in 13 years. The marketing ploy behind the announcement was rather impressive, beginning with Londoners noticing a blimp with the Aphex Twin logo flying overhead while fans in New York and Los Angeles found random AT graffiti around the towns, leading to a tweet containing a Deep Web link that displayed the track listing. This sort of mystery has blogs and fans alike buzzing like crazy, so we'll see how it pans out September 23.
In other comeback news, Prince announced last month he would be releasing two full LPs at the end of September - one featuring solo work (Art Official Age) and another with his all-female touring band 3RDEYEGIRL entitled Plectrumelectrum. It will be the first new music from Prince since his previous work from 2010, (you guessed it!) 20Ten.
We'll also get a new
Flying Lotus
release with the album
You're Dead!
, which is already getting significant media attention thanks to the monster of a single
"Never Catch Me"
featuring
Kendrick Lamar
. The LP will showcase further contributions from
Snoop Dogg
,
Angel Deradoorian
,
Thundercat
, and
Niki Randa
. Catch Flying Lotus at
Fun Fun Fun Fest
.
Foxygen
have somewhat flown under the radar after their January 2013 psyche-rock modernization
We Are The 21st Century Ambassadors of Peace & Magic
until last July when they unveiled their new single
"How Can You Really."
Their new album, entitled
...And Star Power
and boasting a whopping 24 tracks, is set for release October 14. Catch Foxygen at
INDEX Fest
,
Pitchfork Paris
, and
Fun Fun Fun Fest
.
Former Sonic Youth guitarist
Thurston Moore
has made a habit of bouncing around groups recently, starting Chelsea Light Moving in 2012 and joining black-metal supergroup Twilight in 2013 (
before effectively pissing off their entire fanbase
). He's now releasing his fourth solo album entitled
The Best Day
featuring a star-studded backing band with My Bloody Valentine and Primal Scream bassist Debbie Googe, Sonic Youth-drummer Steve Shelley, and Nought-guitarist James Sedwards.
We can also expect a couple wacky cover albums this October, first with
Primus
'
Primus and the Chocolate Factory
- a tribute album to the 1971 children's movie
Willy Wonka and the Chocolate Factory
soundtrack. October 28 will see the release of
The Flaming Lips
'
With a Little Help From My Fwends
, a track-by-track
Sgt. Pepper's Lonely Hearts Club Band
cover album with a collaboration from
Miley Cyrus
on "Lucy in the Sky with Diamonds." Catch The Flaming Lips at
Life is Beautiful
and
Iceland Airwaves
.
We should also note that
Weezer
, whom we mentioned in our previous
"Most-Anticipated" article
, has pushed back the release of
Everything Will Be Alright in the End
to October 7.
Aphex Twin - SYRO (September 23)
Christopher Owens - A New Testament (September 30)
Gerard Way - Hesitant Alien (September 30)
JEFF the Brotherhood - Dig the Classics EP (September 30)
Prince - Plectrumelectrum (September 30)
Prince - Art Official Age (September 30)
Steve Aoki - Neon Future (September 30)
Caribou - Our Love (October 7)
Dinosaur Feathers - Control (October 7)
Ex Hex - Rips (October 7)
Flying Lotus - You're Dead! (October 7)
Hozier - Hozier (October 7)
Johnny Marr - Playland (October 7)
Minus the Bear - Lost Loves (October 7)
Philip Selway - Weatherhouse (October 7)
SBTRKT - Wonder Where We Land (October 7)
Shakey Graves - And the War Came (October 7)
Stevie Nicks - 24 Karat Gold: Songs From the Vault (October 7)
Wampire - Bazaar (October 7)
Weezer - Everything Will Be Alright in the End (October 7)
Zola Jesus - Taiga (October 7)
Foxygen - …And Star Power (October 14)
Jessie J - Sweet Talker (October 14)
Kele Okereke - Trick (October 14)
Kevin Morby - Still Life (October 14)
Kindness - Otherness (October 14)
Pharmakon - Bestial Burden (October 14)
Melvins - Hold It In (October 14)
We Were Promised Jetpacks - Unravelling (October 14)
Charli XCX - Sucker (October 21)
Cold War Kids - My Home (October 21)
Jessie Ware - Tough Love (October 21)
Mark Lanegan - Phantom Radio (October 21)
Primus - Primus and the Chocolate Factory (October 21)
Scott Walker and Sun O))) - Soused (October 21)
Thurston Moore - The Best Day (October 21)
Yusuf Islam/Cat Stevens - Tell 'Em I'm Gone (October 27)
Creepers - Lush (October 28)
HAERTS - HAERTS (October 28)
Lil Wayne - Tha Carter V (October 28)
Pianos Become The Teeth - Keep You (October 28)
Run the Jewels - RTJ2 (October 28)
The Afghan Whigs - Gentlemen at 21 (October 28)
The Flaming Lips - With A Little Help From My Fwends (October 28)
November - December
Bob Dylan by Elliot Landy via Rolling Stone
November brings with it a massive release for Bob Dylan fans: the legendary songwriter is releasing The Basement Tapes Complete, which contains all 138 demo tracks recorded with The Band in 1967. The tracks were first unveiled as a 24-song double album in 1975, and we've seen further releases in subsequent years. However, this is by far the most epic one yet, as it contains 30 songs fans have never heard before.
We'll also see the
Foo Fighters
' eighth studio album
Sonic Highways
. It was recorded in various cities and studios across the United States with a different producer for each track. An eight-episode HBO series will accompany the release detailing the recording process. Frontman Dave Grohl has called the project "a love letter to the history of American music." Catch Foo Fighters at
Life is Beautiful
and
Voodoo Experience
.
The follow-up to
Ariel Pink
's 2012 album
Mature Themes
is also coming this November, entitled
pom-pom
. If you notice there's is no "Haunted Graffiti" on this one, Pink has said of the upcoming double-album, "Although this is the first 'solo' record credited to my name, it is by far the least 'solo' record I have ever recorded." We've caught glimpses of the eclectic musician in the studio with the likes of Sky Ferreira, so there's a lot to be excited for. Check out the first single,
"Put Your Number In My Phone."
TV on the Radio
is also back with their fifth release, this one called
Seeds
and produced by the band's guitarist and famed producer in his own right David Sitek. Lead-singer Tunde Adebimpe is already getting fans' hopes up with statements like, "...the record is, 1,000 percent, without a doubt, the best thing we've ever done." Catch TV on the Radio at
Treasure Island
and
Life is Beautiful
.
We can also expect a new release from Billy Corgan's new version of Smashing Pumpkins, which, as of now, only features Corgan and guitarist Jeff Schroeder. It was revealed last May Tommy Lee of Mötley Crüe played drums on the album, entitled Monuments to an Elegy. Honestly, this whole thing could be a huge mess, we'll have to see come December.
While this is all that's been announced so far, we've heard rumors and statements about upcoming releases from Kanye West, Kendrick Lamar, and Frank Ocean, so keep your ear to the ground because the year's end might be filled with awesome hip hop.
Bob Dylan - The Basement Tapes Complete: The Bootleg Series Vol. 11 (November 4)
Deerhoof - La Isla Bonita (November 4)
Dirty Beaches - Stateless (November 4)
Les Sins - Michael (November 4)
Foo Fighters - Sonic Highways (November 10)
Mark Kozelek - Sings Christmas Carols (Novmber 10)
…And You Will Know Us By the Trail of Dead - IX (November 11)
2:54 - The Other I (November 11)
Damien Rice - My Favourite Faded Fantasy (November 11)
Ariel Pink - pom pom (November 18)
TV on the Radio - Seeds (November 18)
Smashing Pumpkins - Monuments to an Elegy (December 9)
See Also: